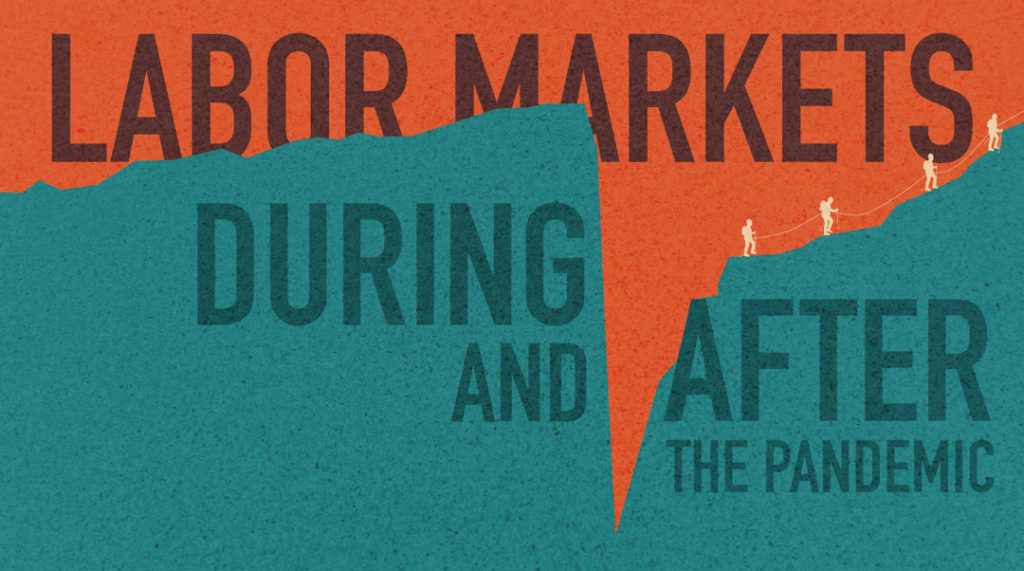 Covid-19 left an incredible thumbprint on workplaces in every sector and industry. From where we work, to how we meet, to what we wear, the pandemic shifted individual decisions as well as shared norms. Are the changes observed today in workforce participation, preferences for the work we pursue, and the responsibilities we undertake permanent? Or do they simply reflect the specific conditions of the pandemic, only to fade away once the public health emergency itself dissipates?
To allow our clients to remain in front of megatrends shaping the new workplace, Borderland Partners stays abreast of those emerging insights that are based on solid evidence. In reviewing the slate of research shared at last month's @BostonFed conference2, we were struck by the new pools of data gathered since the pandemic hit (papers and video clips of presentations are available here). Here are what we think are three of the most provocative findings about the new workplace that emerged from the Boston Fed's conference.
Get used to lean teams. Those empty desks around you aren't going to be occupied anytime soon. Some good news/bad news for employers comes from scrutiny of new labor market statistics. In terms of good news, after all of the pandemic-induced gyrations in layoffs, retirements, and quiet quitting, the US labor market has already recovered to almost where it was before March 2020. Even though some calculations suggest "missing" workers and "missing" jobs, research by Bart Hobjin and Aysegul Sahin demonstrates that these figures are overstated and are a continuation of a downward long-run trend. And that's the bad news. The limited labor supply in the US was a pre-pandemic problem that will haunt the nation for the next decade. This means that companies and organizations that want to grow will not be able to easily expand their workforce. Instead, they will have to hold on to most innovative and productive employees, retrain their existing workers, improve their operations, and reconfigure their supply chains, among other strategies.
A machine is going to replace more of us. Automation used to be confined to manufacturing. No more. Since 2015, more sectors in the economy have integrated AI, especially automation, into jobs. Information, professional and business services, and finance have all embraced automation as part of routine business, as MIT's Daron Acemoglu describes. The spread of automation raises concerns about job growth and income inequality. More automation means less hiring, unless the automation supports the creation of new tasks. If that's the case, then employers need to make sure they provide training and upskilling, especially for workers most vulnerable to replacement.
All those Covid-19 business start-ups are still with us, for now. Just don't look for them in the city. The pandemic witnessed a surge in new businesses. After initially dropping in March and April of 2020, applications for new businesses rose to record levels, reaching an all-time high in July 2020 and remaining historically elevated to the present time. Researchers Ryan Decker and John Haltiwanger note that the increase in applications is concentrated in industries friendly to pandemic patterns of work (eg, online retail, other high-tech industries). They also observed a "donut effect," with less growth in city centers compared to surrounding areas. Since many workers who could relocate left cities for less populated suburbs, this pattern makes sense. The critical question about these fledgling businesses is whether they and their impact will endure. These new businesses offer innovative, creative solutions, and a different work-life balance, all of which pressure the competition and other organizations to change, as well. If these new businesses, their owners, and employees withstand the threats in the post-pandemic economy, they may further alter the nature of work and workers' lifestyle preferences.
Although it's still too early to make much sense of the pandemic's impact, the US workplace is entering a new phase where fewer employees, who may relate differently to their jobs, will need to be retrained, fast, to keep up with a wave of technological change. Borderland Partners will continue to track the Federal Reserve Bank of Boston, the World Economic Forum, and others interested in megatrends affecting the future of the workplace, and share that information as it becomes available.