There's no other field of work as dizzying or as globally competitive as semiconductor manufacturing. The output of semiconductor manufacturing plants is a staggering array of microchips. These chips power the smartphones, computers, automobiles, and other electronic devices that allow our personal and professional lives to thrive.
Thanks to the CHIPS Act, the United States will invest $52 billion in constructing a finite number of regional manufacturing hubs, to capture a larger proportion of the $1 trillion global semiconductor market that will be in place by 2030. For these fabs to hum, they need skilled personnel.
Unfortunately, the talent pipeline is riddled with holes. Since the CHIPS Act also directs funding to workforce development, money will soon flow to learning and training programs meant to shore up the leaks. These opportunities coming from semiconductor manufacturing can serve as examples for other industries to build on.
Let's take a quick look at the existing workforce supporting semiconductor manufacturing in the US, at projections for the next decade, and at which solutions might work best for workers at different skill levels.
The semiconductor manufacturing industry is fueled by a diverse workforce that enjoys higher than averages wages. Entry-level positions typically call for no more than a high school diploma. The work involves supporting the production line, operating machinery, and performing quality control checks. According to data from the Bureau of Labor Statistics, the median annual wage for semiconductor processors, which includes entry-level positions, was $41,140 in May 2020.
Higher-level positions require some experience in the field, as well as postsecondary education. For example, technicians at the mid-level who troubleshoot and maintain equipment usually hold an associate degree in a relevant field such as electronics, electrical engineering, or mechanical engineering. Engineers design and develop manufacturing processes, equipment, and products. They require a bachelor's or master's degree in a relevant field such as electrical engineering, mechanical engineering, or materials science.
At the highest level are the research scientists, design engineers, and senior managers who contribute to the development of new technologies, materials, and products. They usually require significant experience, as well as a master's or doctorate degree in a relevant field such as materials science, electrical engineering, or physics. The median annual wage for electrical and electronics engineers, which includes mid-level and high-level positions, was $103,390 in May 2020, but salaries can go much higher depending on factors such as location, experience, and education.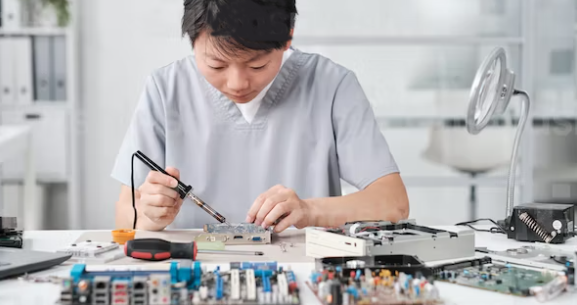 The semiconductor manufacturing industry is expected to see significant growth. According to a report from the Semiconductor Industry Association (SIA), the CHIPS Act can create 42,000 more direct jobs in the United States by 2027. However, there is also expected to be a significant shortfall: an estimated shortage of over 8,000 workers in entry-level positions, over 7,000 workers in mid-level positions, and over 2,000 workers in high-level positions by 2029.
To address this shortage, semiconductor companies have begun to invest in training programs and partnerships with educational institutions. For example, Intel has partnered with Arizona State University and Maricopa Community Colleges to create training and education programs for semiconductor manufacturing jobs. Similarly, GlobalFoundries has partnered with Hudson Valley Community College in New York to create a program that provides training for technicians and engineers.
Separate from partnerships between manufacturers and education institutions, apprenticeships are expected to play an increasingly larger role in workforce development. While associated with entry-level positions in the past, new apprenticeship programs will target critical middle skills jobs.
The workforce realities confronting semiconductor manufacturers point to two, broader changes in learning and work.
First, solutions cannot just address only one job level. Unless enough entry-level workers are overseeing production, orders won't get filled. And unless enough researchers, designers, and business leaders are on board, new products won't be conceptualized, produced, and sold.
Second, multiple timelines for preparing workers with new skillsets need to whir along simultaneously. For example, providing more varied apprenticeships can take place relatively quickly, but only affects entry and mid-level positions. A different problem is the supply of workers who push the boundaries of the existing field. Finding more people at this level involves addressing several learning ecosystems. High schools need to prepare students better (in math and science, at least for semiconductor manufacturing). Undergraduates need to build on this knowledge, and more of them need to be enticed to further their education at the graduate level. Master's and doctoral programs at universities need additional research and administrative support. All of this suggests a much longer-term endeavor.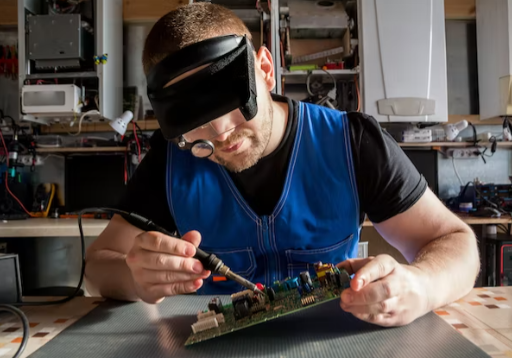 Make no mistake, the CHIPS Act will provide an incredible funding pool for semiconductor manufacturing. It would be wonderful if all of this results in the US garnering a larger chunk of the global semiconductor market.
It would be even better if other industries learn how to get their workforce milieu right, too.
To that end, Borderland Partners will continue to track developments in CHIPS Act-related workforce training, to help share the wealth.